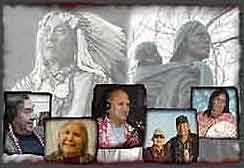 Wisdom of the Elders Radio Programs
Educators and others can now purchase individual CDs of Wisdom of the Elders Radio programs for classroom and other applications. While our curriculum and outreach materials are still in development, we are providing these copies for educators and others who use them in classrooms, tribal education, recovery and rehabilitation and other settings. We request that users provide feedback to us on how the programs helped them. Each CD is $15.00, plus $1.00 shipping and handling.
The entire series of 8 CDs of Wisdom of the Elders: Series One or Wisdom of the Elders Radio: Series Two are also available at $100.00 per set of 8 one hour programs. There will be no charge for shipping and handling on the series.
Click here for a printable order form, or use your credit card to order directly (below)
Storyteller and Song-Carrier Judy Trejo
The late song-carrier and storyteller Judy Trejo, from the Summit Lake Paiute tribe of Nevada, has sung traditional songs since infancy. Trejo was a member of the Native American Church, and was a retired school teacher. She had a Master's in Counseling, and has taught the Paiute language at the college level. She has published a book about medicinal herbs and edible plants.
Trejo's albums Circle Dance Songs of the Paiute and Shoshone (1997) and Stick Game Songs of the Paiute (1999) are available through Canyon Records. Judy has been honored with the highest award available to a Native American musician, the INDIE Award presented by the Association of Independent Music Producers, which she received in 1988 in the Native American category for her recording, Tubvan dau ya (Pinenut Blessing Song).
Trejo was one of the last remaining singers of Paiute Circle Dance songs, also known as Ghost Dance songs. Wanting to preserve the traditional music in its truest form, she conferred with elders from Owyhee, Elko, McDermitt, Walker River, Battle Mountain, Nixon and Fort Hall before making her recordings. The legacy of traditional music that Judy Trejo has left us is of immeasurable value – we are fortunate indeed to have shared time on Earth Mother with her very special spirit.
The Judy Trejo Collection
The late Judy Trejo was a respected Paiute oral historian and storyteller, well known for her stories of her family, the oral history of her nation, and colorful bear and coyote stories. She was widely honored and acknowledged as a keeper of circle dance songs, pine nut songs, and stick game songs, receiving a NAMMY award from the Native American Music Association in 2000 for her Pine Nut Blessing Song, and recipient of their Rita Coolidge award in 2001.
JTCD-1 Stories by Judy about herself and her family
JTCD-2 Stick Game Songs and Stories
JTCD-3 Circle Dance Stories and Songs
JTCD-4 Pine Nut and Other Paiute Songs and Stories
JTCD-5 Medicine Trees and Herbs
JTCD-6 Bear and Coyote Stories
JTCD-7 More Coyote Stories
JTCD-1-7 Entire collection of 7 CDs*
The making of The Best of Taheebvu Chadi
Judy supported Wisdom of the Elders' cultural preservation mission as well as our vision for the Wisdom of the Elders radio series. She also served as a board member of WISDOM from 1996 until the time of her death in 2002. Therefore, when we asked her to record her stories and songs so we could produce a special series of radio segments featuring her cultural heritage, she happily agreed.
She traveled to Portland from her home in the Nevada desert, between February and August 2002, to share her stories, song and rich oral history in a series of recording sessions with Wisdom of the Elders. As a result, we were able to record more than 8 hours of her memories, stories and song. We then produced eight special segments for her radio feature, Taheebvu Chadi. Taheebvu Chadi, meaning Great-grandmother Judy, in the Paiute language, launched on the air along with the other special segments of Wisdom of the Elders in 2004.
These CDs are available for $15.00 each, plus a small shipping and handling charge. Those purchasing the entire seven-CD collection will receive a free copy of the CD, The Best of Taheebvu Chadi, the 8 segments produced for the Wisdom of the Elders radio series. A portion of the proceeds will go to her family.
*Those purchasing the entire collection will receive a free CD: The Best of Taheebvu Chadi. This CD features the eight Taheebvu Chadi radio programs produced for Series One of Wisdom of the Elders radio program. The individual segments range between 6 minutes to more than 9 minutes in length.
PayPal / Credit Card Orders:

Wisdom of the Elders Radio Series One Programs

CD-101 The Sacred Earth

$15.00

CD-102 The Circle

$15.00

CD-103 Cry of the Earth/Prophesy

$15.00

CD-104 Honoring Native Women

$15.00

CD-105 The Horse in Native Culture

$15.00

CD-106 The Harvest

$15.00

CD-107 Tribute to Native Artists

$15.00

CD-108 Native Relationships

$15.00

CD-100 Series One Complete 8-CD set

$100.00

Wisdom of the Elders Radio Series Two Programs

CD-201 Shawnee, Osage, Omaha, Otoe / Missouri

$15.00

CD-202 Yankton Sioux

$15.00

CD-203 Lakota – Teton (Lower Brule) Sioux

$15.00

CD-204 Arikara

$15.00

CD-205 Mandan / Hidatsa

$15.00

CD-206 Crow / Cheyenne

$15.00

CD-207 Assiniboine

$15.00

CD-208 Blackfeet

$15.00

CD-200 Series Two Complete 8-CD set

$100.00

Judy Trejo CD Collection

Purchase
Description
Price

JTCD-1 Stories by Judy about herself and her family

$15.00

JTCD-2 Stick Game Songs and Stories

$15.00

JTCD-3 Circle Dance Stories and Songs

$15.00

JTCD-4 Pine Nut and Other Paiute Songs and Stories

$15.00

JTCD-5 Medicine Trees and Herbs

$15.00

JTCD-6 Bear and Coyote Stories

$15.00

JTCD-7 More Coyote Stories

$15.00

JTCD-1-7 Entire collection of 7 CDs

$100.00
Orders totaling $100.00 or more qualify for free shipping!!

Refund policy:

All products purchased from the Wisdom of the Elders Radio website are covered by a 30 day money back guarantee. Should you become dissatisfied with our products at any point within the first 30 days following purchase, return the product along with a copy of the record of the purchase to Wisdom of the Elders, Inc., and we will refund your money in full. Refunds will be issued on the same credit card used to make the original purchase. After the refund has been processed, a confirmation email will be sent to the email address on file.

To make a refund request, please provide the following information (by mail to Wisdom of the Elders, Inc. 3203 SE 109th Ave., Portland OR 97266:

Full name of purchaser

Your credit card transaction number

The title of the product you purchased

Your email address

Date of Purchase

Reason for refund request